Vivaldi, Mozart all part of Pompano Youth Orchestra
Written by Phyllis J. Neuberger

Monday, 04 April 2011 11:53
By Phyllis J. Neuberger

Pelican staff - October 1, 2010

Vivace Heritage Youth Orchestra makes beautiful classical music thanks to the energy and hard work of its creator, Marie Manuel, who currently serves as the group's program director and conductor. With a smile she graciously steers the conversation away from herself to the dedicated group of children ages eight to seventeen.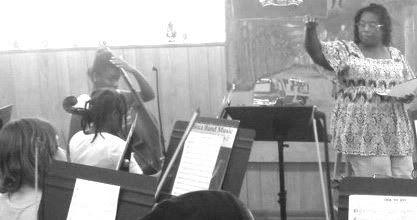 "We started this summer camp in '08 with five youngsters," she says. "In '09 we had 12 students and this year we had 40. These children come from a geographic range stretching from Pembroke Pines to Deerfield for eight weeks of training at the Mitchell Moore Annex, 901C NW 10 St. They're a multi-cultural group including African Americans, Puerto Ricans, Haitians, Dominicans and Americans. We have two groups, the Preludes, or intermediates, and the Advanced Orchestra. We recruit mid-year. Those children who show interest are met, with their parents, and assessed as to their skill levels. Summer music camp runs from Monday through Thursday 9 a.m. until 1 or 2 p.m. The younger ones stay later."
The children play on instruments borrowed from the school. Manuel says, "They're serious musicians and they take good care of their precious instruments."
Their teachers are dedicated professionals. Timothy Byrnes, cellist and a string professional is music coach at Dillard. Susan McCray is a retired music educator who worked for 40 years at Crystal Lake Middle School. Devon Manuel, Marie's brother, is the magnet coordinator and band director at Andrews Elementary. Manuel is a cellist who conducts, teaches and puts the entire package together and keeps it up and running. She says, "Our summer music program was funded by the Community Foundation of Broward County. We were blessed with funding from The Symphony of Americas Society and the Pompano Beach Rotary Club. Our children pay, if possible, on a sliding scale. We have some who meet in Hollywood and come by Tri-Rail. We meet the train and bring them to school."
Asked if she is a volunteer, Manuel shrugs and says, "Most of the time I am. If money comes in, I might get a stipend." But that doesn't stop her from working seven days a week to accomplish different phases of the summer program which includes research, grant writing, fund raising, public relations, program development and more.
"I'm not unusual," she says, " Everyone at Changing Directions 4 Youth & Family is dedicated and works for little or no salary. That includes Bapthol Joseph, president and CEO. When he was asked about Marie Manuel, he said, "She's extremely valuable. Because of her talent we can offer services such as music and technology. She has also set up a resource center which is heavily used."
About Marie Manuel
Born and raised in Pompano Beach, Manuel attended Pompano Middle School and Pompano Beach High School. She continued on at Broward Community College and Florida Atlantic University. She recalls having her first music lesson when she was 10 in the same building in which she now teaches members of the Vivace Heritage Youth Orchestra. "My teacher was Mr. David Wright who was a music teacher at Blanche Ely High School. My first instruments was a rented clarinet."
For ten years she worked as Administrative and Education Coordinator for the Symphony of Americas. She went on to work for the Bethel AME Church in Pompano, developing a non profit, outreach program. "We did employment training, placement and micro business training," she explains. "We also ran a food pantry and feeding program. And now I'm a mix of a volunteer and employee of Changing Directions 4 Youth & Family."
Manuel says, "It makes me sad that in the education system, the arts programs are the first to go in this bad economy, They are much more important than the beauty they produce. I see music, art and dance as a prevention method and a chance for young people to explore future opportunities. These programs teach many of life's skills that we all need. Music is a beautiful example of teamwork. It establishes cultural bridges between the children and the community. I'd like our orchestra to reflect the multi cultural faces of those in South Florida. We are living proof that we can work together to achieve beautiful sounds."
Thank you Marie Manuel and Changing Directions for your inspiration and help to the community.
To donate to this worthy organization or to apply for a seat in next summer's Vivace Heritage Youth Orchestra call 954-793-1172.
Last Updated ( Friday, 08 April 2011 03:26 )